EXPLORE PETALUMA
---
Ideally situated along a serene stretch of the Petaluma River—yet a mere 45-minute drive from San Francisco—Petaluma is the perfect place to stay, shop, dine, and play while exploring everything Sonoma Wine Country has to offer.
This 21-second video will give you a glimpse of the fun that awaits you in Petaluma.
Visiting Petaluma's historic downtown area is reason enough to plan a trip. It takes little imagination to picture what life was like here back in the 1800s, as many of Petaluma's original buildings still line the streets. Stately banks, towering brick mills, and rustic feed stores now house boutique clothing shops, gift stores, and antique shops. The iron-front buildings are now home to superb restaurants, art galleries, and a wide range of lively pubs and music venues.
Outdoor enthusiasts visit Petaluma year-round for both road and mountain cycling tours, hiking along the gorgeous Sonoma Coast, and paddle-boarding on the Petaluma River. The outdoor adventures in Sonoma County are endless, and there's no better home base than Petaluma.
PETALUMA DISTRICTS MAP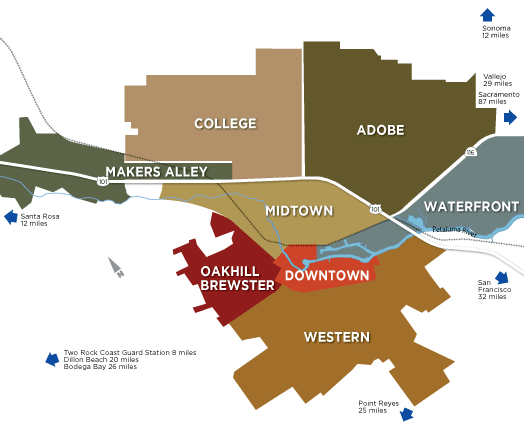 PETALUMA'S DISTRICTS
---

QUIET AND FRIENDLY
The Adobe District is filled with family friendly, quiet neighborhoods of tract-style housing dating from the 1950's. Stretching east toward the Sonoma Valley, it is where you'll find the Petaluma Airport, many sports fields, and the historic Adobe home of General Vallejo.
Popular with California pilots, general aviation Petaluma Municipal Airport covers 220 acres and has one runway. The adjacent Two-Niner Diner is the perfect place to refuel and refresh before take off.
Experience California history at Petaluma Adobe State Historic Park, General Vallejo's 66,000 acre rancho from 1836-1846. Located just outside of the Adobe District, the adobe is one of Northern California's oldest preserved buildings.
Driving east from Adobe District to Sonoma Valley, you'll pass Green String Farm. The organic produce sold at their farm stand has been grown with a focus on aiding rather than fighting natural processes.

MAIN STREET MEETS RIVERTOWN
Stroll the streets and you'll find a mix of circa 1870's iron fronts, old river warehouses, and a former mill that serves as office space for growing tech, natural food, and creative companies alongside boutiques selling, kitchenware, clothing, books, antiques and art. It's also where you go for movies, live music and acclaimed restaurants. Mini districts such as Kentucky Street, Petaluma Blvd, American Alley, Foundry Wharf, and 4th street thrive along the walkable streets and vintage buildings.
Listed on the National Register of Historic Places, walkable downtown Petaluma has some of the best examples of iron-front architecture in the entire US. Today, these architectural gems house specialty and antique stores, art galleries, and cozy bistros and bars.
Built in 1904, the neoclassical-style Petaluma Historical Library and Museum is housed in a former Carnegie Library. The Museum hosts special exhibits, speaker series and music performances throughout the year as well as maintaining a permanent collection of Miwok Indian and agricultural artifacts.
The only winery in Sonoma County that specializes in ports and after-dinner wines, Sonoma Portworks offers complimentary tastes in their intimate tasting room. Their DECO Port with essences of dark chocolate inspired their tagline "Drink Dessert!"
Sample hand-crafted wines at Barber Cellars tasting room in the renovated art deco Hotel Petaluma. Enjoy sampling their wines from sustainably farmed vineyards with world famous Cowgirl Creamery Cheese, McEvoy olives and Zoe's charcuterie.
The Seed Bank on Petaluma Boulevard is one of only three Baker Creek Heirloom Seed Company stores in the entire US. Choose from 1500 varieties of non-GMO seeds plus tools and gifts.
The Military Antiques and Museum is the country's largest retail military shop. The adjacent museum features life size dioramas and one-of-a-kind memorabilia.
The Mystic Theatre built in 1911 has an illustrious history and hosts diverse artists from surf guitar king to the multi-talented Jackie Greene. Make it a memorable night on the town and enjoy dinner after the show at McNear's Saloon & Dining House next door.
HIGH END OFFICE SPACE MEETS OPEN SPACE
Anchored by the Petaluma Marina and the Sheraton Sonoma Wine Country, the Marina District contains some of Petaluma's most successful businesses. Shollenberger Park connects the Marina to trails that extend southward through miles of scenic river marshland. Look out for birdwatchers! Other amenities in the district include upscale condominiums and apartments that round out Petaluma's housing options.
WHERE REALLY GOOD THINGS ARE MADE
Part industrial, part Class A office all alongside Petaluma's farmland. Bikes, beer, wine, and distilled spirits are made in the industrial buildings that neighbor the office spaces that are home to Petaluma's growing technology sector.
Established more than 20 years ago, Petaluma is proud to claim Lagunitas Brewing Company as our own. Take a tour – they are offered almost hourly – and learn about their phenomenal growth and sample some of their iconic brews and special recipes. Stay for killer pub fare in their Taproom with live music most days of the week.
It's all about making great tasting beer with distinctive flavor profiles at HenHouse Brewing Company.
Family-owned Griffo Distillery blends their independent spirit with a deep appreciation for traditional techniques. Sample their small batch gin poured by their knowledgeable staff in their tasting room in Maker Alley.
NEW URBAN SUBURBS AND COLLEGE STUDENTS
High-end homes flank Petaluma's Junior College Campus, Petaluma Valley Hospital and a series of walking trails, small parks and gathering centers. It's a great place to bike or walk.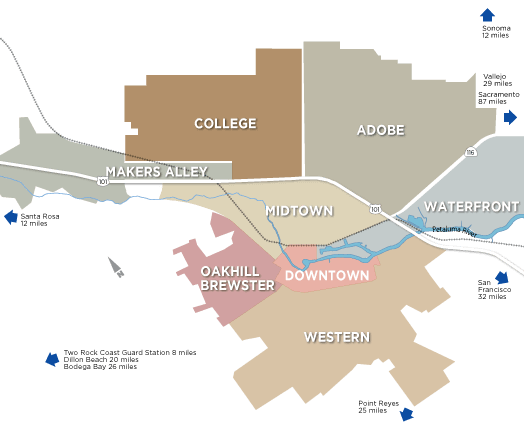 A THROWBACK TO PETALUMA'S PAST
Tree-lined streets, Victorians, Craftsmans, and bungalows overlook Petaluma's historic downtown and the Sonoma Valley beyond. Residents enjoy the neighborhood parks and living within walking distance to the action downtown.
Does your four-legged traveling companion need some play time? Let him run free in the lower section of Oak Hill Park during morning and evening hours.
This local historic district has homes that are "high-style" design and more commonplace representations built from the 1860s through the 1940s.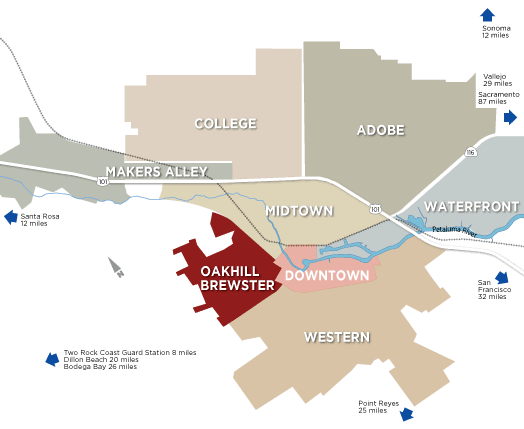 PETALUMA'S PARK PLACE
Historic Mansions and restored Victorians lead the way to newer subdivisions and generous open space on the west end of town. Not uncommon to see deer, quail and wild turkeys in the area.
Helen Putnam Regional Park offers panoramic views and a looped trail system for hikes of varying difficulty. This local favorite hiking destination is also a great place to bring the family; there is a picnic area and playground near the parking lot.
Just a few blocks from downtown and located in a 100 year old landmark, Petaluma Creamery is the home of award-winning Spring Hill Cheese made with 100% organic jersey milk. Sample delicious varieties such as Pesto Jack, Sage Cheddar, and Garlic Quark – a fresh creamy-style cheese – and enjoy lunch and homemade ice cream.
Step into Petaluma's past where well-preserved buildings with architectural styles ranging from Victorian to Spanish Revival can be viewed. The homes and churches along B Street and D Street offer some of the best examples.
MID-CENTURY MODERN MEETS 21ST CENTURY MODERN
Where small families, small shops and major shopping centers meet along Petaluma's East Washington commercial corridor. This neighborhood brings east to west and north to south connecting the historic downtown and Oak Hill Brewster, the Marina, College and Adobe Districts.
Make the Visitors Center in the historic train depot your first stop in Petaluma! Our friendly and knowledgeable staff are eager to help you make the most of your visit.
When welcoming you to Petaluma, we also welcome you to a vibrant arts community. The Petaluma Arts Center located next door to the Visitors Center has a full schedule of innovative exhibits.
It's "All Aboard!" on the SMART train. The station, located steps from the Visitors Center, carries passengers between the Sonoma County Airport area (to the north) and Larkspur in Marin County (to the south) where you can board a ferry to San Francisco. Sit back, enjoy a drink, and zip past the traffic on Highway 101.
The Midtown area is the transportation hub of Petaluma. Golden Gate Transit buses to San Francisco pick up one block west of the Visitors Center. The Airport Express bus to SFO or Oakland Airport is next to the Petaluma Library, about a half mile east of the Visitors Center.