Discover world-class wine, beer, and spirits. Taste Petaluma.
The delicious arts of fermentation and distilling are in full flower in Petaluma. It's only natural that a town known for its deep agricultural roots would craft libations that pair perfectly with great food, beautiful scenery, and a welcoming spirit.
While Petaluma's wine, beer, and spirits are recognized as some of the best in Sonoma County and beyond, there's one ingredient that you won't find in them…pretentiousness. Petaluma offers tasting experiences that are all about authenticity, whether it's tasting Petaluma Gap pinot noir in an intimate downtown wine bar, chatting with the owner of a small batch gin distillery, or learning how Lagunitas — now the ninth largest brewing company – began on a kitchen stove more than 20 years ago. Experienced or novice, everyone's welcome in Petaluma.
A list of Tasting Rooms, Tap Rooms, Wineries, and Distilleries is available HERE.

Patio dining at mcnear's
A Summertime Favorite!
Whether you enjoy sitting under the shade of an umbrella as you dine with family, prefer a side of people-watching with your cocktail, or simply a change of scenery to wind down and relax, McNear's is a favorite gathering spot!
Top-quality grapes have been sourced from the Petaluma area by famous wine-makers for more than 150 years. The opening in the coastal mountains, or gap, draws wind and fog from the Pacific through Petaluma, eventually reaching the Bay. The daily temperature can vary as much as 50 degrees allowing wine grapes to ripen later and reach their full flavor potential. This geographic feature allows the more than 70 growers in the region to produce high-quality Pinot Noir, Chardonnay, and cool climate Syrah, which they sell to over 80 wineries in other parts of Sonoma and Napa counties. If these are some of your favorite varietals, be sure and plan your trip to include The Petaluma Gap wineries in your itinerary.
Wine this good deserves its own designation! So the Petaluma Gap Winemakers Alliance undertook the intensive process of breaking away from the Sonoma Coast AVA and becoming its own AVA. In December 2017, they got the good news that the Petaluma Gap is Sonoma County's 18th AVA.
Petaluma Gap growers are dedicated to sustainability, and many are devoted to organic viticulture. Their grapes are sold to some of Sonoma County's finest wineries, including Keller Estate Winery, deLoach Vineyards, Kendall-Jackson Wine Estates, Kosta-Browne Winery, and Landmark Vineyards.
Plan a trip to one of Petaluma's intimate tasting rooms to experience one of their award-winning wines, ports, brandies, whiskeys, and bourbons.
CRAFT BEER TASTING IN PETALUMA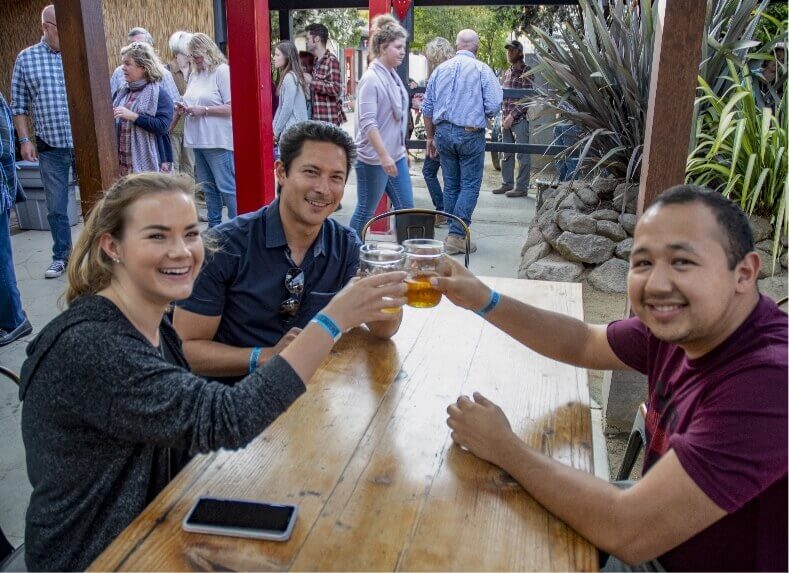 Combining passion, creativity, and some amazing ingredients, Petaluma's breweries are a destination for aficionados of hand-crafted ales. Whether you choose to visit tap rooms in the "Maker Alley" district of northeast Petaluma or stroll historic downtown, delicious discoveries await.
There's an argument to be made that the craft brewing movement started in Petaluma. Perhaps…but there's no doubt that something special started when Lagunitas set up shop more than 20 years ago. Today, Lagunitas brews are enjoyed worldwide, making touring their brewery and sampling their latest release a must for every craft beer lover.
Lagunitas is just the beginning. Across the street, HenHouse Brewing Company is the place to find styles that may be a little lesser known in the beer scene, such as saison, Oyster Stout, and Belgian-style golden ale. Or find your Zen, a grapefruit hard seltzer with fresh citrus aroma and flavors at nearby Crooked Goat Brewing.
PETALUMA LOCAL BREWERIES
distilleries
SPIRITS TASTING IN PETALUMA
Petaluma loves welcoming visitors to Wine Country…and, more recently, gin, whiskey, and vodka country. Family-owned distilleries blend their independent spirit with a deep appreciation for traditional techniques. The result is small-batch spirits with handmade authenticity and unparalleled complexity.
Some people are purists when it comes to sampling spirits; others enjoy their libation in a cocktail. Either way, the perfect moment awaits you when you take the first sip, sit back and say, "aaah…that's good!" at one of Petaluma's intimate tasting rooms serving hand-crafted spirits.