SHOPPING FANATICS REJOICE
---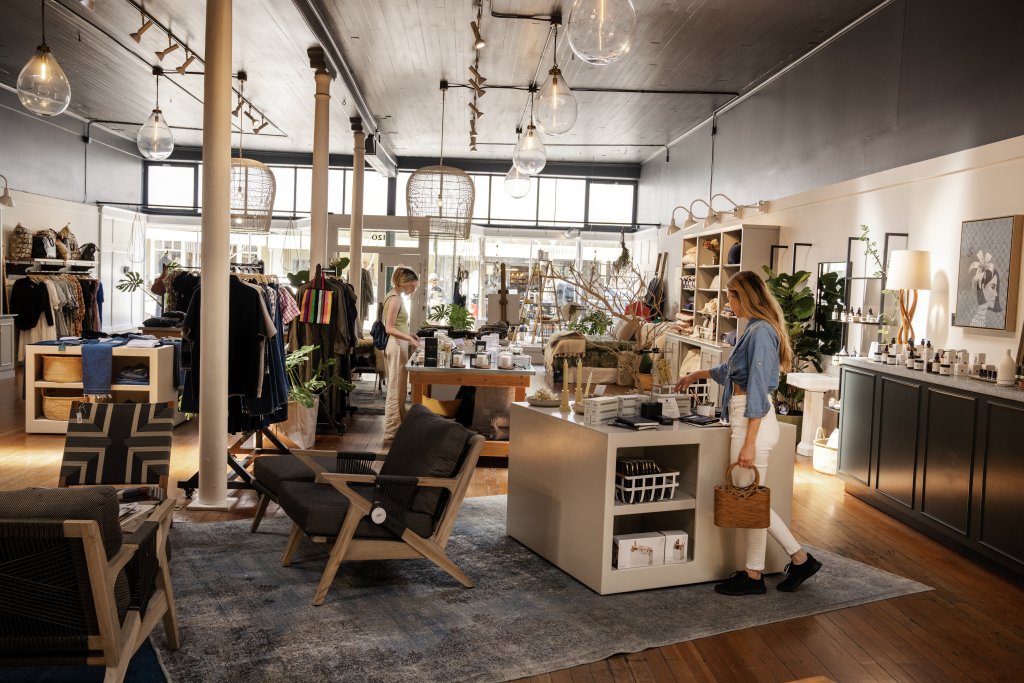 FROM CHIC TO UNIQUE, FIND IT IN PETALUMA
Are you looking for a signature piece to complement your stylish wardrobe? Seeking to add that special art piece to your abode? Whether mom is on the hunt for a vintage brooch, or your kids guilt you into a toy store visit, Petaluma can satisfy every kind of shopper. Our downtown area is a shopping haven featuring dozens of one-of-a-kind shops, boutiques and galleries.
The Petaluma Village Premium Outlets is a destination unto itself for savvy shoppers looking for great deals on the best national brands. And when you need the basics of life, a convenient shopping center is never more than a few miles away.
SHOP DOWNTOWN PETALUMA
Explore the walkable shopping area where the architectural gems of the 1800s house many one-of-a-kind specialty stores, including retro to fashion-forward clothing and fabulous finds for your home and garden. Don't miss the annual Downtown Summer Sidewalk Sale in July. Boutique and independent stores are a vital part of the special character of Downtown Petaluma. Shop local and find the best bargains!
Toy stores and candy shops will surely keep the kids entertained, and don't forget your four-legged family members as our downtown welcomes them too. No need to rush to grab a latte, glass of wine, or a delicious meal at one of our restaurants – parking is free all day in both of the downtown parking garages.
Be sure not to miss our downtown Theatre District. Theatre Square features boutiques, restaurants, and abundant free parking. The Theatre District also hosts summer outdoor concerts.
Shop dozens of art and antique galleries, specialty boutiques, and enjoy the best of Wine Country cuisine or just grab a quick bite to eat. Park free on the street or in one of the downtown garages.
Shopping in Petaluma is a Fashion "Do"!
PETALUMA SHOPPING CENTERS
East Washington Place: Target, BevMo!, Dick's Sporting Goods, TJ Maxx/HomeGoods, Sprouts Market, Ulta, PetSmart, Yogurtland, and more.
The Plaze North: CVS Pharmacy, Lola's Market, Starbuck's, Massage Envy, iWash Too Laundromat, Batteries Plus, and more.
Washington Square: Safeway, Hallmark, Peet's Coffee & Tea, Pet Food Express, Planet Fitness, Staples, Noah's Bagels, and more.
Riverfront Plaza: Grocery Outlet, Baskin-Robbins, Sunrise Donuts, and more.
Leghorn Marketplace: Safeway, Starbucks, Pongos Kitchen & Tap, Sonoma Mtn. Pizza, Chunky's Taqueria, Great Clips, and more

ANTIQUE SEEKERS
Historic, walkable Downtown Petaluma offers the discerning buyer 15 city blocks of incomparable treasure-hunting adventure. Extending from the Petaluma riverfront to Keller Street, retailers purvey items that span the mercantile spectrum from the charmingly utilitarian to the genuinely exotic.
Claiming more antique stores per capita than any other Bay Area city, Petaluma has a reputation among interior designers and casual collectors as their go-to shopping destination. Whether you're looking for a 19th-century farmhouse table that seats 12 or the perfect object d'art to complete a tabletop vignette, one of Petaluma's downtown antique galleries is certain to have just what the designer ordered.
Spend the day treasure-hunting for art, furniture, jewelry, and collectibles. But pace yourself! There are many more unique items to be discovered at Chelsea Antiques, Petaluma Collective, Sienna, Summer Cottage Antiques, and Yankee Girl Antiques, to name just a few.

THE PETALUMA OUTLET MALL
Sometimes unique is what you are looking for; other times, it's brand names. Petaluma Village Premium Outlets, less than five minutes' drive from downtown, has an impressive collection of the finest brands for you, your home, and your family. There are over 60 stores to fill your closet and home- such as Adidas, Banana Republic, Brooks Brothers, Coach, Gap, Kate Spade, Levi's, Michael Kors, Nike, Saks Off 5th, Tommy Hilfiger, Vans, and more..
To see all of the great stores offered here, visit the Petaluma Village Premium Outlet stores map.
PETALUMA OUTLET MALL

PETALUMA FAIRS & FESTIVALS
Picture this…you're outside, the weather is perfect, and you are casually strolling rows of white-tented booths, chatting with vendors, and browsing to see what catches your eye. The street has a block party vibe. It's a very different shopping experience than the typical "rush in, rush out" trip to the store…and so much more fun!
Because visiting Petaluma is all about having a good time…even when it comes to shopping…the Event Calendar is filled with fairs and festivals that bring an array of unique merchandise to the heart of historic downtown. The fall and spring Antique Faires, Art & Garden Festival in July, and three Farmers Markets are just a sampling of the shopping delights to be experienced in Petaluma.