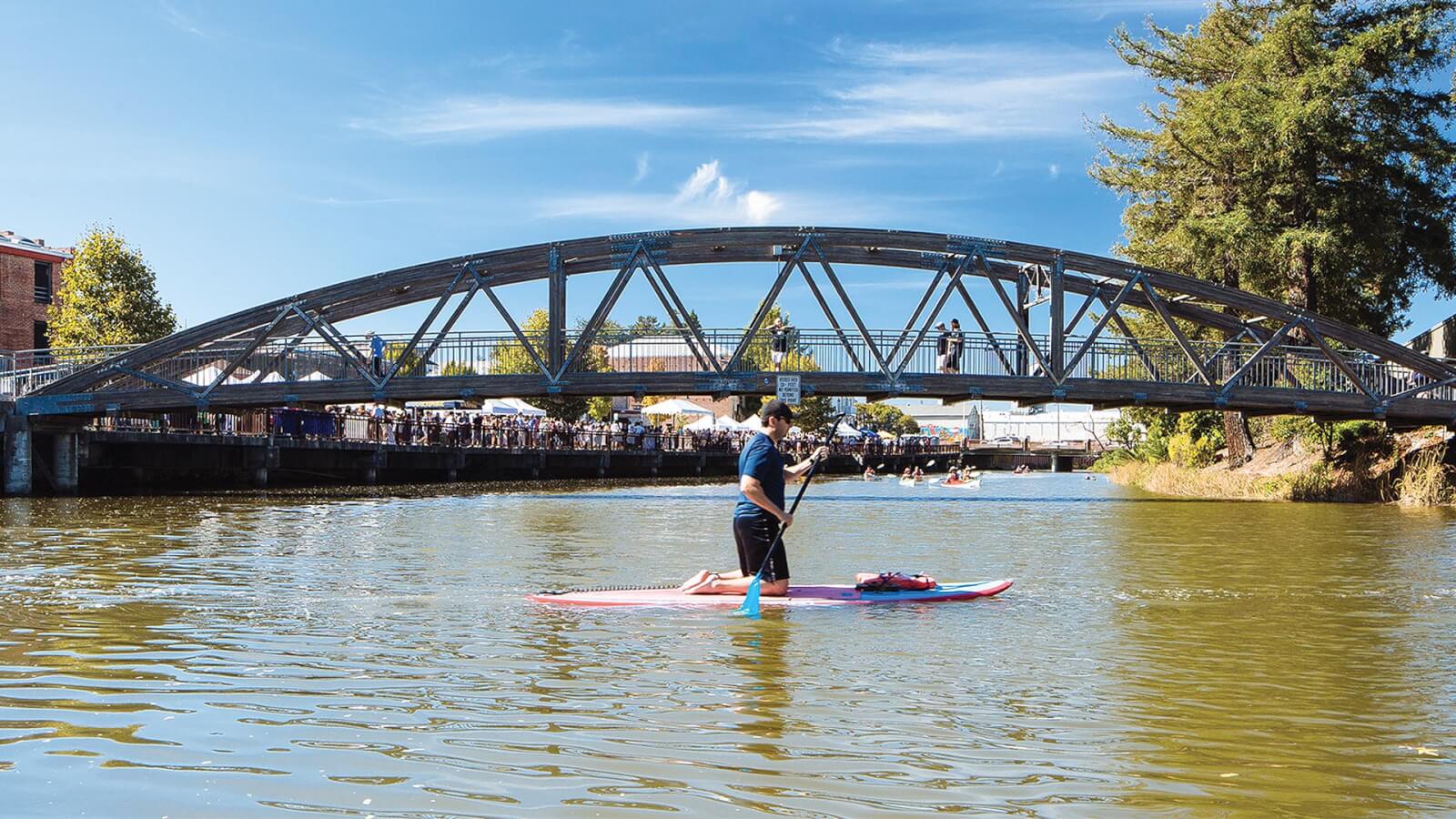 Find people-powered play in Petaluma.
Visit Petaluma, but stretch first. From family-friendly paved paths through the wetlands to stand-up paddle boarding on the gently moving Petaluma River, Petaluma offers visitors a diverse range of recreational activities. Many road bikers find Petaluma to be a great place to start their loop. A short ride through town takes you out to a pastoral countryside, where often you'll find you have the roads to yourself all the way to the coast. Perhaps you'd rather take to the links than the streets? Or sweating it out in the local gym, pilates studio, yoga studio, or Crossfit boxes — Petaluma has it all.
The rolling hills of Petaluma's regional parks beckon hikers and cyclists to hit the trail. Whether you choose to take on a challenging climb to the vista point, stroll leisurely through the groves of heritage oaks or even just sit in the gazebo and take in the beauty of rural Sonoma County, you'll leave refreshed and rejuvenated.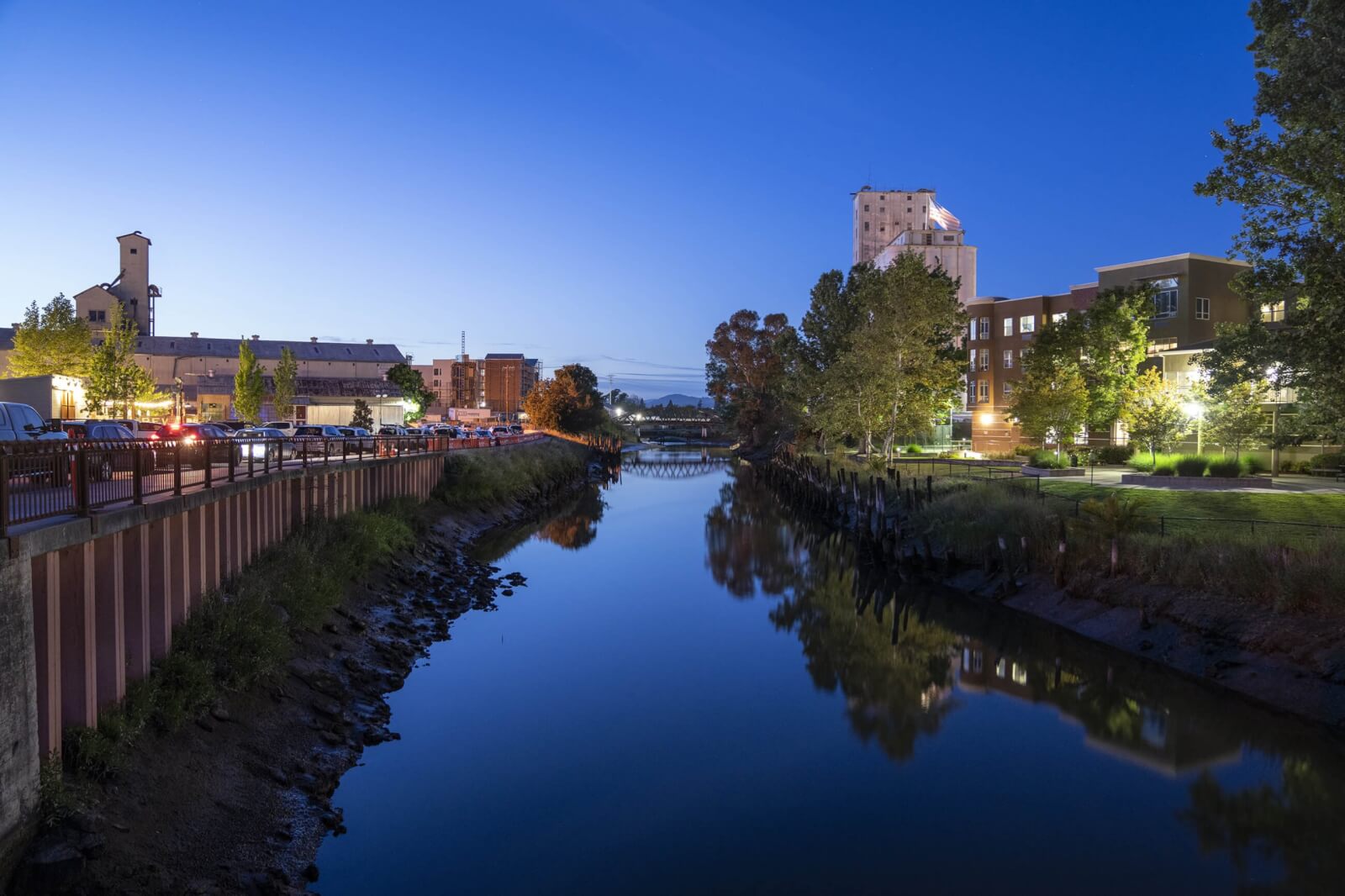 Float the River
Kayak, stand-up paddleboard, jet ski, and more on the Petaluma River.
The rejuvenated river is sparkling and ready to welcome leisure boaters! It's the perfect weekend getaway because when you moor your boat in the Turning Basin, you're only a few steps away from dining and shopping in the heart of the historic downtown district.
Information about mooring at the Marina, temporary berthing at the Turning Basin, and scheduling an opening of the D Street bridge is available on the City of Petaluma website and the City's FAQ sheet. The friendly folks at the Petaluma Yacht Club are also ready to help you make the most of your cruise-in.
The Floathouse offers one of the largest varieties of people-powered watercraft, making river recreation available to everyone. The fleet includes kayaks, stand-up paddle boards, and pedal boards. Premier SUP supplier, Clavey Paddlesports, is ready to outfit and train river adventurers with everything needed for a fun, safe experience.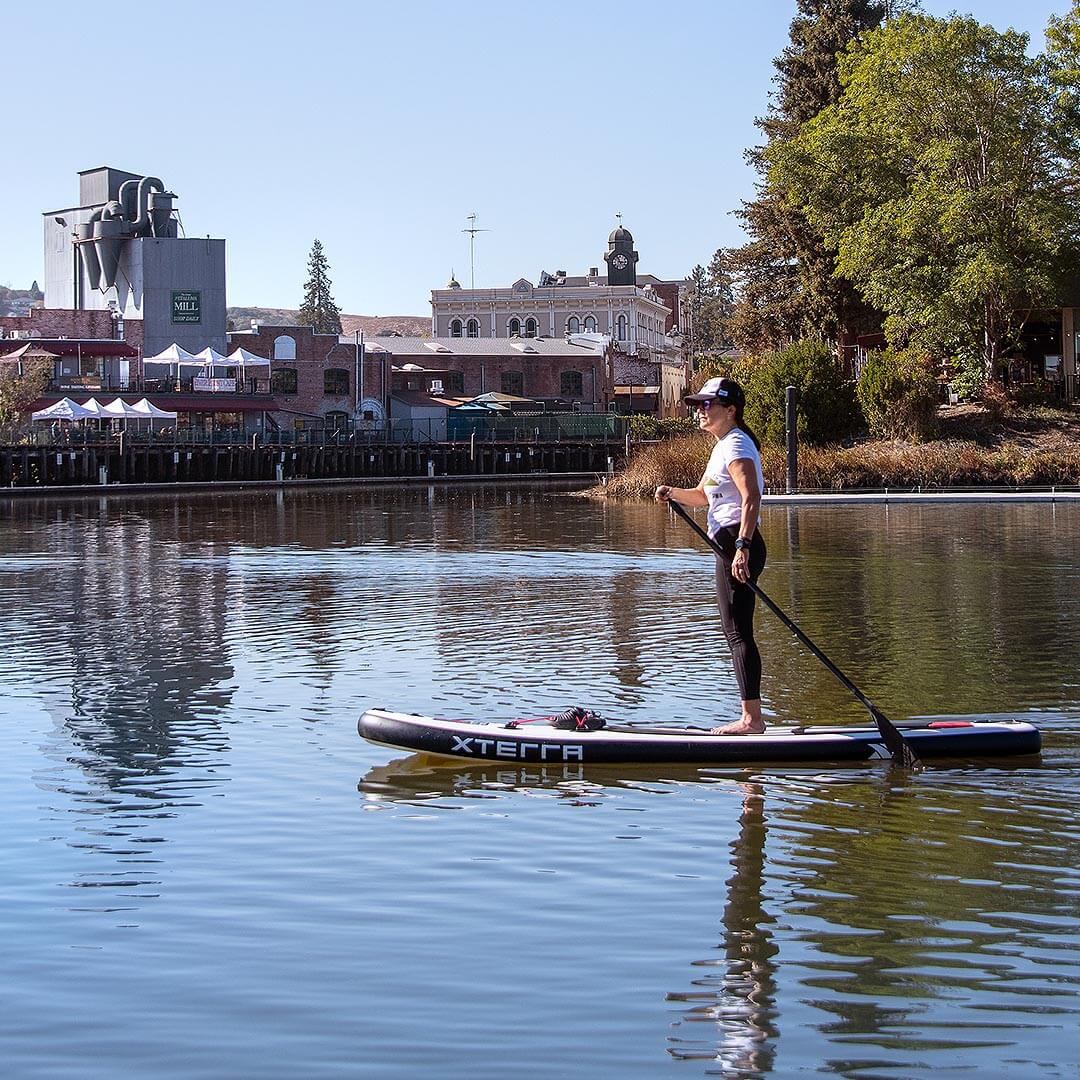 Dirt or Pavement – Petaluma WON'T DISAPPOINT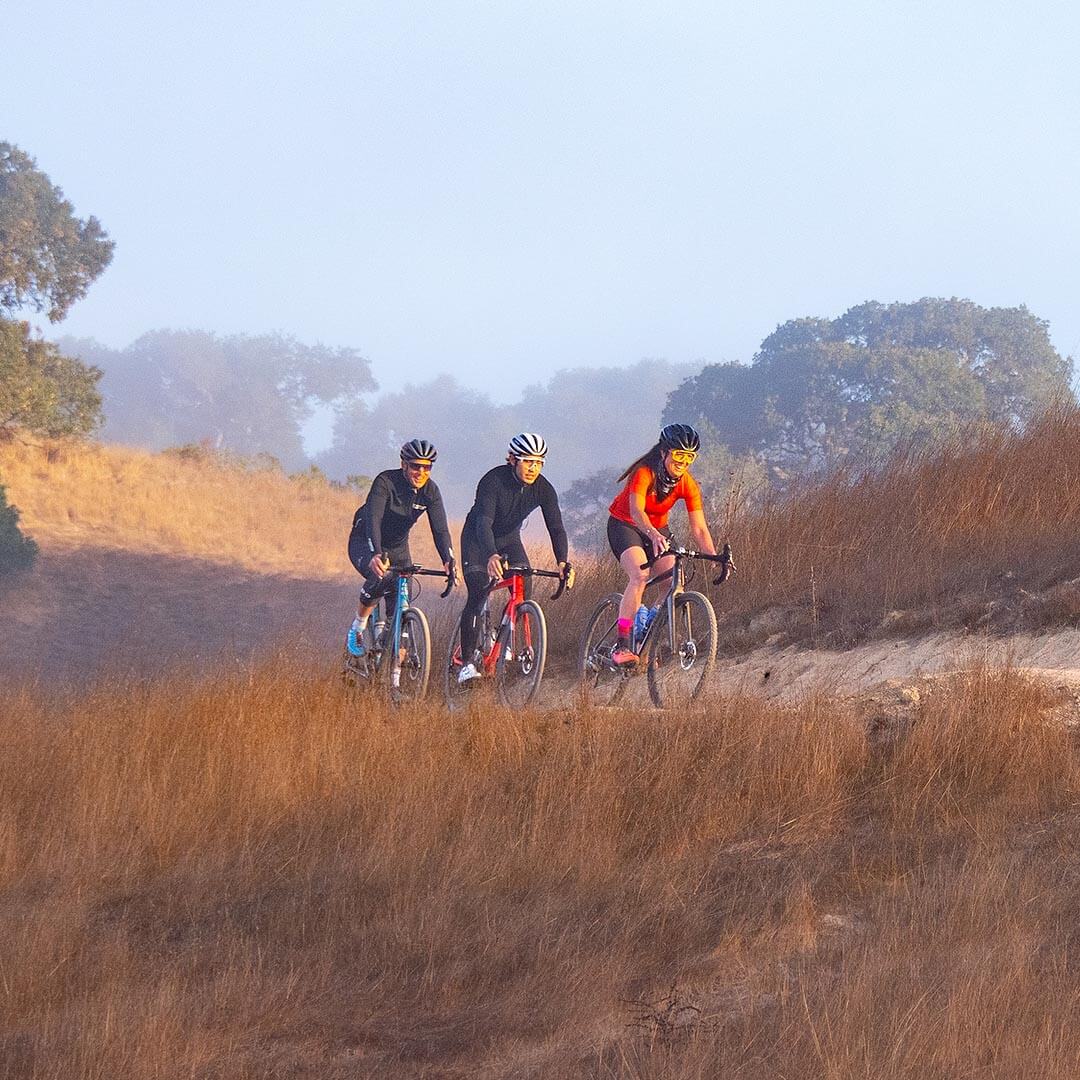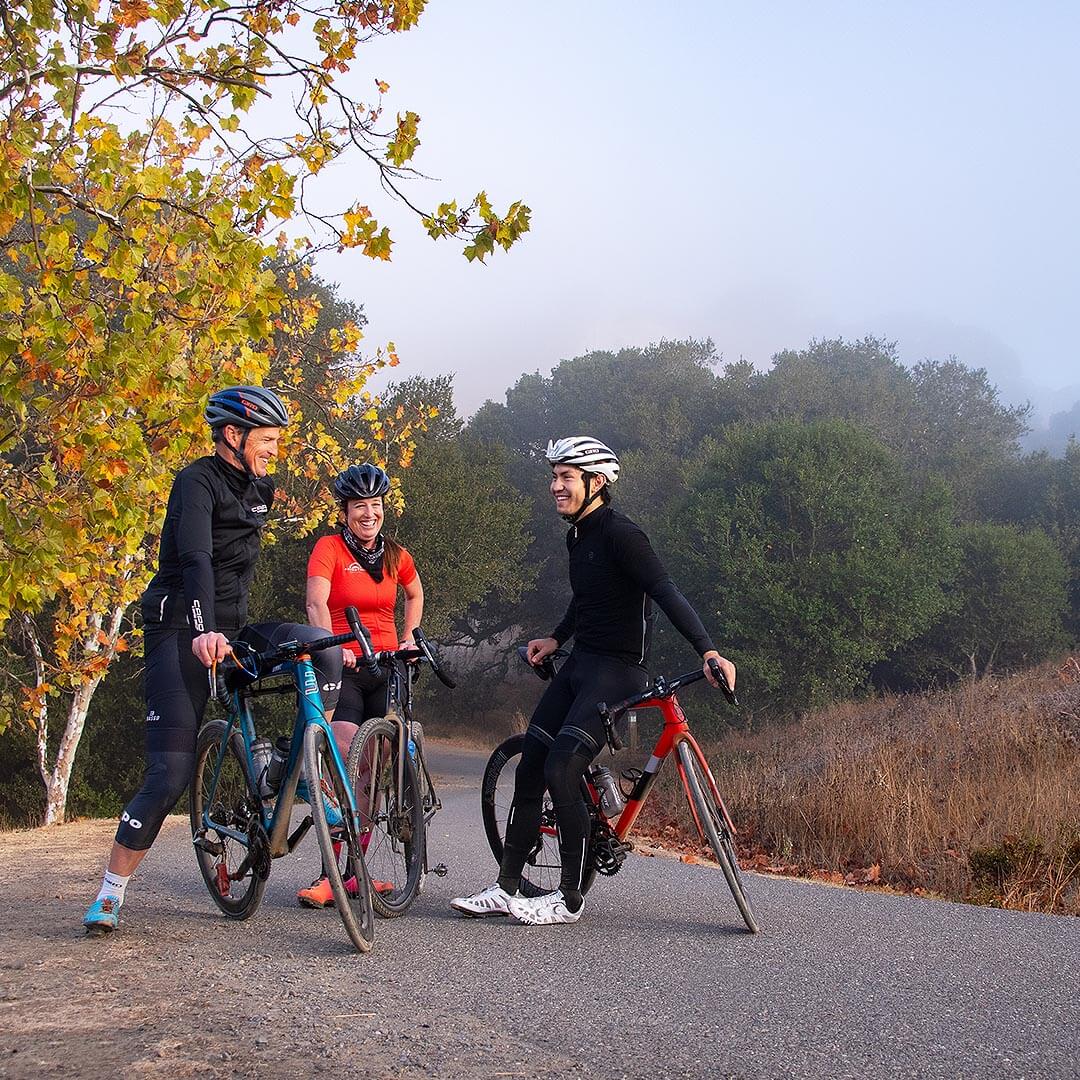 It's not surprising that the scenic beauty of Wine Country and the coastline combined with nearly perfect weather year-round have made Sonoma County one of the best cycling destinations in the world.
Petaluma shares in that reputation. Explore one of the regional parks, Helen Putnam Regional Park or Tolay Lake Regional Park, and be rewarded with spectacular views of the Petaluma valley.
Or venture out from Petaluma for the 48-kilometer Spring Hill-Chileno Valley ride and experience the beauty of the rural dairyland that borders Sonoma and Marin counties. Interested in something a little shorter? Stay in Petaluma and cycle out to Lagunitas Brewing Company for a refreshing beverage.
Winding through a 165-acre wetlands park, Shollenberger Park is a local favorite because it offers five miles of flat walking and bicycle paths. It's also a hot spot for bird watching; keep an eye out for egrets and herons – over 230 species of birds have been identified in the wetlands.
The Petaluma Wheelmen are an excellent resource for routes of varying difficulty and length. You can also download a map of Petaluma Bicycle and Pedestrian routes.
In need of a bike to rent? Big Bowl Bike Shop in River Plaza Shopping Center (within walking distance of the Visitors Center and SMART train platform) offers the Electra Townie 7D Step-Thru by the hour or day. If your bike needs a tune-up or you're looking for local advice, call on the experts at Smith & Bergen Bicycles or Mike's Bikes of Petaluma.
The SMART Train delivers even more options for cyclists; bring your bikes on the train for scenic day trips. The SMART train and pathway system enable cyclists to make longer journeys by extending their ability to use a bicycle as a preferred mode of travel. The SMART Pathway takes trail users over the Petaluma River and under Hwy 101.
take to the hills
HIKING THE HILLSIDES OF PETALUMA
Whether your style of hiking is "let's keep the pace up" or more like a Sunday stroll, you'll find a trail in Petaluma that suits you perfectly.
Helen Putnam Regional Park is located within the rolling hills just southwest of Petaluma and offers 6 miles of trails, with ridge-top trails offering panoramic views of the county. Helen Putnam is a favorite of local hikers because the looped trail system makes it possible to create hikes of varying lengths and difficulty. The trails are also open to cyclists and horseback riders.
The expansive Tolay Lake Regional Park has 8.6 miles of trails, including a popular five-mile trail that ends at a vista point with views of the entire San Pablo Bay. A day-use permit is required; complete the online orientation and application to receive the free permit.
Located less than five minutes from downtown, Shollenberger Park is one of Petaluma's natural treasures. The 165-acre wetlands park offers family-friendly 1.5 and 2-mile flat trails near a variety of habitats ranging from tidal salt marshes to freshwater marshes.
A visit to the Petaluma Adobe State Historic Park will bring you back to one of the most prosperous private estates established during the Mexican period. It still houses authentic furniture and exhibits depicting early rancho life. The Petaluma Adobe State Historic Park is located on Adobe Road in Petaluma between Frates Road and Casa Grande Road (drive past the unmanned kiosk to the parking lot). The park has lovely, shaded picnic areas with views of farmland and oak-studded hills.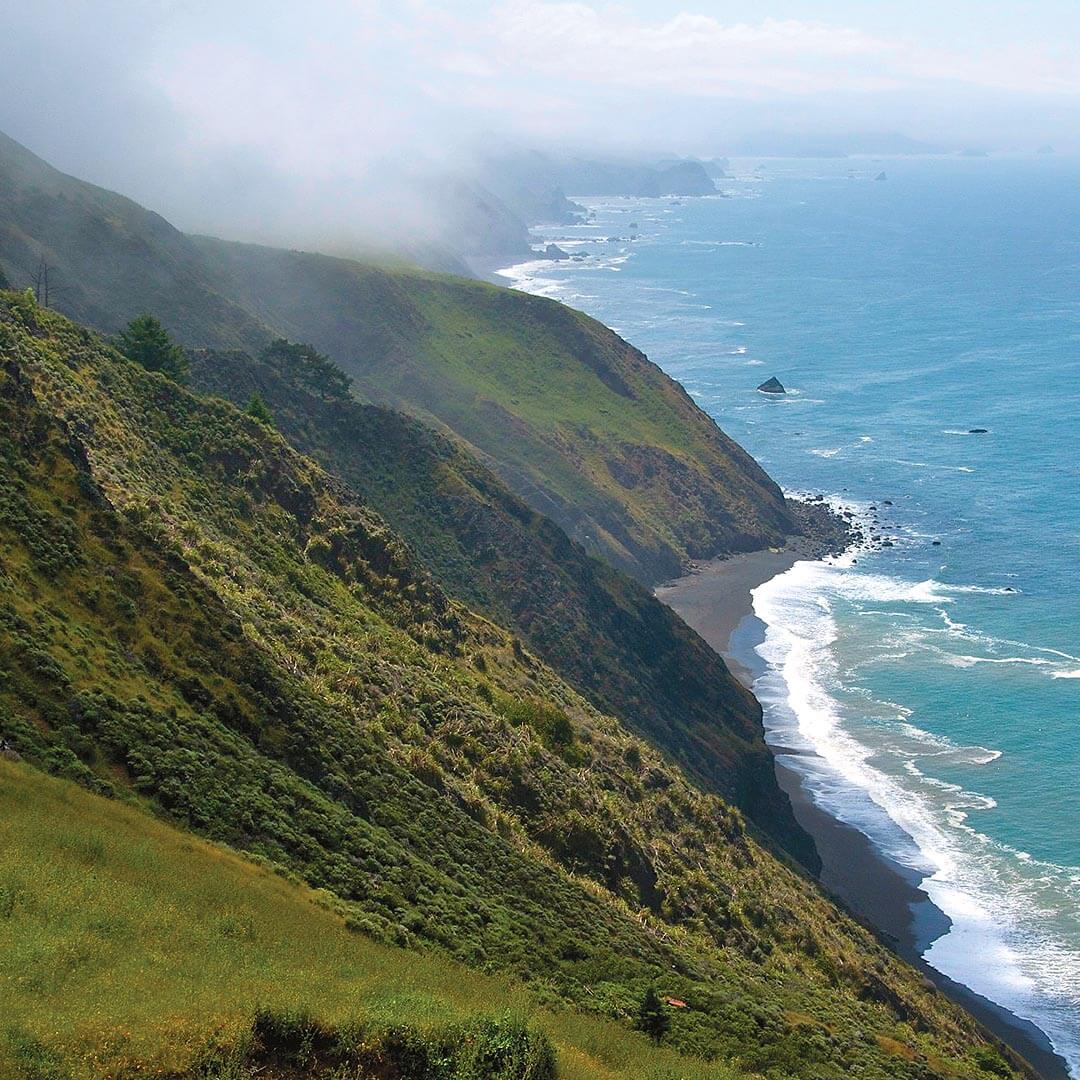 head to the coast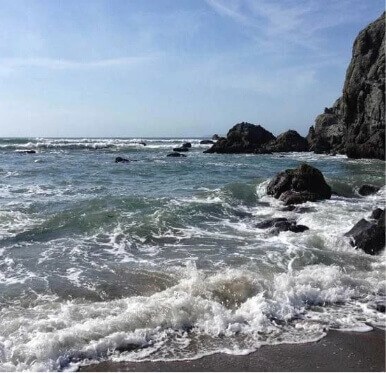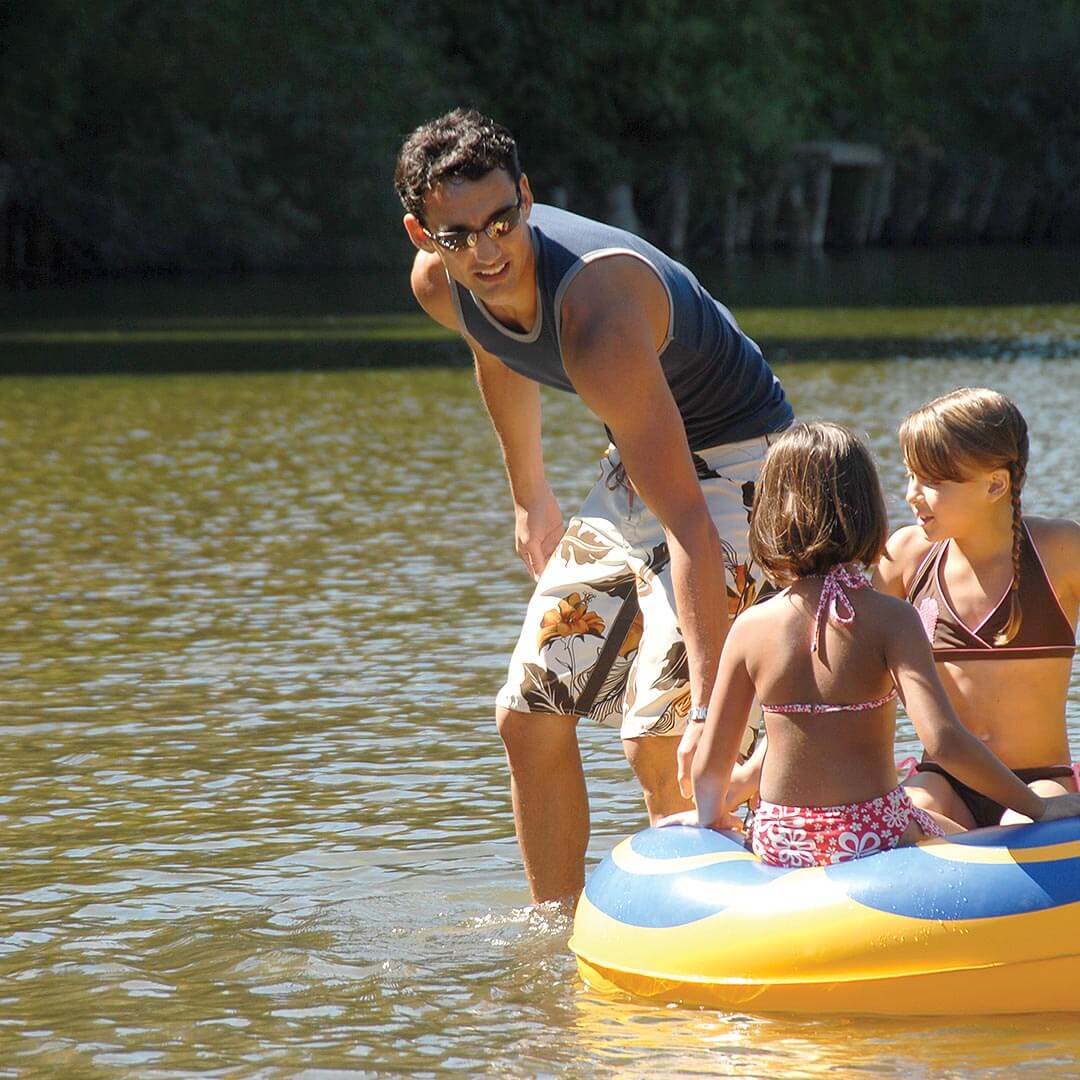 In Northern California, the "coast" can mean a dramatic shoreline, sandy beaches, rolling dunes, or quaint villages. And the beauty of staying in centrally-located Petaluma is that whatever type of coast experience you're seeking, it's all a short drive away.
One of the most popular Sonoma County coastal destinations is Bodega Bay, and it couldn't be easier to get there from Petaluma. Just head due west on Washington Street, and within a half an hour, you'll be breathing in the ocean air or savoring a bowl of clam chowder. You'll also want to visit the village of Bodega, four miles inland, where Alfred Hitchcock filmed his 1963 thriller "The Birds."
Drive west on D Street, and in about a half hour, you'll arrive at Pt. Reyes National Seashore. The 70,000-acre recreational haven encompasses a wide variety of environments, including coastal grasslands, marshes, forests, and marine. Hike some of the 150 miles of trails, trek the 308 stairs to the lighthouse, learn about the ecology and history at the Bear Valley Visitor Center, or take a ranger-guided tour. After all that activity, you deserve a reward. Since you'll be going right past it on the drive back to town, stop at Marin French Cheese for some of their Rouge et Noir Triple Cream Brie.