2022 Butter & Egg Days Parade & Festival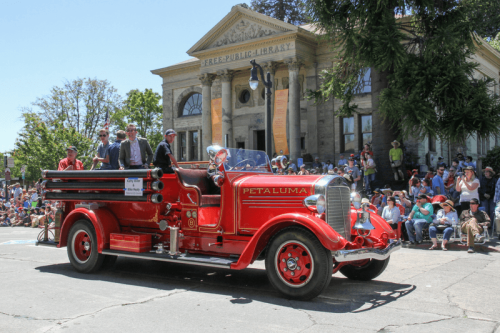 Saturday April 23, 2022
10:00 am - 5:00 pm
The Petaluma Downtown Association is proud to announce that after a two-year hiatus, the Butter & Egg Days Parade will once again bring the community together for the iconic parade and festival on April 23, 2022.
The theme, "Community – The Heart of Petaluma," celebrates the opportunity for Petalumans to gather together after the cancellation of the event in 2020 and 2021. Honoring the myriad of engaged non-profits, businesses, and volunteers with huge giving hearts that fuel our community spirit, the theme echoes what makes Petaluma such a special place to live. The parade is expected to have over 100 units with approximately 3,000 participants and 200 volunteers.
"Petaluma is known for its strong sense of community. This year's theme shines the spotlight on our amazing businesses and organizations that connect us with one another. These relationships give us resiliency through difficult times. The return of the parade in 2022 is the ideal time to celebrate that," says Marie McCusker, executive director of the PDA.
The Butter & Egg Day festivities kick off on April 16th at noon with the Opening Ceremonies at the Petaluma Historical Library and Museum (20 Fourth St.). Mayor Barrett will read a proclamation honoring the Grand Marshal and Good Egg.
One week later on Saturday, April 23rd, the parade steps off at noon in historic downtown surrounded by a festival of fun and activities from 10 a.m. to 5 p.m.
Cow chips and donkey apples will take flight at 10:00 a.m. in front of McNear's. The always popular "Cutest Chick Contest" begins at 10:15 a.m. on the Petaluma Egg Farm stage on Kentucky Street outside of Copperfield's Books.
Applications for parade entries will be available soon at Petalumadowntown.com.
The Butter & Egg Days festivities continue on Sunday, April 24th when the historic downtown district transforms into an open-air marketplace for the Spring Antique Faire. Treasure hunt among almost 200 vendors from 8 a.m. to 4 p.m.
Visit Petalumadowntown.com for parade and festival applications and additional information